Bringing your Yorkie puppy home for the first time is an exciting moment. But most new Yorkie parents typically aren't fully aware how challenging this process can be.
To make the most of it, however, there are a few things you may want to consider taking care of before bringing your bringing your puppy home. To begin with, it's a good idea to choose a veterinarian, purchase a few basic supplies and doing a little puppy-proofing.
Start With A Plan
A simple plan is all that's really necessary. It doesn't need to be elaborate. A plan will help you prepare for what might otherwise be a chaotic and unpredictable first day at home with your new puppy.
Once the excitement of the first day has come and gone, your next challenge is to make it through the first night. Admittedly, this may not require a plan as much as fortitude and patience. After the first night has passed and the sun begins breaking the horizon (yes, you'll be up to witness it), your plan will guide you through the next important steps of getting your Yorkie puppy acquainted with people and the rules of his new environment.
Get Everyone On-Board
To insure your new puppy feels comfortable loved and accepted from day one, it's a good idea to have every member of your family on-board before bringing your puppy home. If anyone in the family seem less than enthusiastic about the arrival of a new puppy – or opposed to the addition of a family pet, you'll want to resolved before the puppy arrives.
Getting Prepared For Your New Arrival
Once you've made the commitment to become a Yorkie Parent, you will usually have at least a few days to get everything ready. But even if you make the decision today and are planning on picking up your puppy tomorrow, you'll still have a little preparation time. The key word here is preparation.
Preparing for your new Yorkie puppy can be as simple or complicated as you choose to make it. At the very least, you should line up a vet and have have the essentials you'll be needing to properly care for your puppy. Getting organized in advance will help keep things far less chaotic during your puppy's first few hours in a new home. With just a little prep work, things will go far more smoothly.
It helps to have your home ready, your puppy's food and supplies ready, the kids ready and the puppy's area ready. You should also go ahead and make an appointment with your Veterinarian. If you don't already have a vet, now would be a good time to do some research and get some recommendations. If you live in the same city as the puppy's breeder, they can be your best resource for finding an appropriate vet. If the breeder doesn't live near you, they should still give you some guidance what to look for in a vet.
Connect With A Vet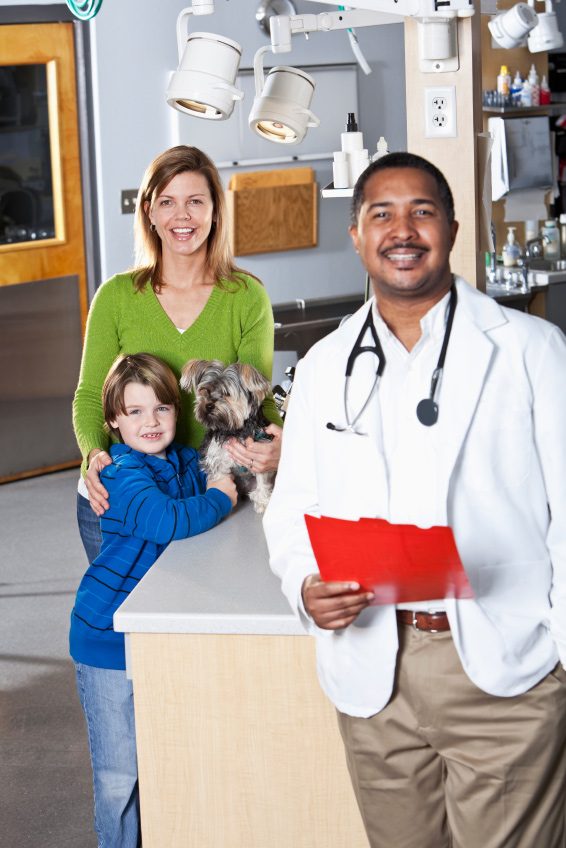 Along with your breeder, a knowledgeable, trustworthy veterinarian is an important partner in keeping your Yorkshire Terrier healthy. On your first visit to the vet, preferably before you pick up your puppy, you'll have the opportunity to observe the conditions of the clinic, and meet some of the staff to determine whether it's a good fit for you and your puppy. It's definitely best to find a good veterinarian before you actually need one – rather than scrambling to find one in the middle of a medical crisis.
If you don't already have a vet for other family pets, be judicious in your selection process. Ask for recommendations from your breeder or friends who have have dogs and whose opinions your trust. Location is always an important factor. In an emergency, you'll need to get to your vet quickly and the vet must be able to respond quickly when needed. Be sure to ask about emergency hours ahead of time. Try to find a veterinarian practiced in the special needs of Toy breed dogs.
Your First Vet Visit
Within two or three days of bringing you puppy home, schedule a health-check visit to confirm that your puppy is in good health. Your vet will discuss th best plan of vaccination for your puppy based on the care and treatments that your breeder started. Most Yorkie breeders recommend waiting until puppies are ten weeks old to begin a series of puppy shots. This will maximize effectiveness and minimize risk.
Puppy vaccinations are typically administered four weeks apart to ensure the best immune response. As a precautionary measure, it's a good idea to keep your puppy away from places frequented by other dogs until your puppy's shot regimen is completed.
Your vet will let you know any health concerns to look out for as your puppy grows. The veterinary office will also let you know when it's time for your puppy's booster shots.
Ask your vet lots of questions about anything related to the care and well-being of your Yorkie. He or she will be happy to answer all of your questions and will be a resource to you throughout your Yorkie's life.
Yorkie Supplies You'll Be Needing
As a general rule, a Yorkie puppy doesn't need a lot: mostly a warm place to sleep, a little food, a couple of toys to play with and a comforting lap to curl up on. If you give your puppy these things, you will have provided just about everything your puppy would ask for if he could make a list and hand it to you. Of course, as a responsible and loving Yorkie parent, you know that a few more items may be necessary – items that your puppy wouldn't include on his list but will inevitably be needing. Things like a collar, harness and leash, a crate, bedding, food dishes, and so on. A quick trip through a pet supply store, grocery store, your local Wal-Mart or Target will probably have what you need.
A Word About Pet Stores
Pet stores provide for pet owners what baby stores provide for new or expecting parents. They are really good at convincing you that your little one needs an abundance of all sorts of fancy things. If, in your excitement, you allow yourself to buy into all their marketing magic, you'll find yourself spending a lot of money on items your Yorkie puppy doesn't need and will never be used.
It's a good idea to get the supplies you need in advance. It can make the arrival much easier. If you had been looking forward to taking your puppy with you to shop for puppy things, buy most of what you'll be needing first and hold back on an item or two to pick up with your puppy in tow.
PUPPY FOOD
Deciding what you'll be feeding your puppy will be one of the first, and most important decisions you'll be making.
Your puppy's breeder can make the decision about what to feed your puppy an easy one one for you. She'll most likely give you a care sheet that specifies, among other things, the kind of food your puppy has been eating. She may even provide a few days' supply. If you plan to stock up on your puppy's food in advance, always ask your breed first what she recommends.
A solid nutritional foundation early on is vital to ensure that your new Yorkie puppy enjoys life-long health.
Look Beyond the Pet Food Marketing Hype
The brand of food you feed your puppy is the most important decisions you'll be making as a pet parent. Because your puppy will be eating the same food every day, it's his primary source of nutrition. And a superior dog food can help to foster a solid nutritional foundation, which can help sustain your dog over a long and healthy lifetime.
As a caring pet parent, it's important that you see through marketing ploys designed to mislead you about the quality of ingredients and their intended dietary benefits.
Additionally, some of the most highly marketing brands use wheat and wheat glutens, corn and corn glutens, as well as artificial food colors and preservatives. Not all pet food manufacturers have your puppy's best interests in mind. Unfortunately, many use ingredients that you would never knowingly feed your puppy. Some intentionally attempt to mislead you with clever marketing, touting ingredients that sound appealing to you but are not actually suited to the nutritional requirements of dogs.
Your best course of action here, is to ask your breeder. Then check your puppy's diet out with your vet. But a word of caution here. Your vet is most likely promoting a brand or two that are equally susceptible to marketing ploys. Learn to read the labels. Do your research.
Here's A Great Site For Comparing Pet Food Contents, Nutrition and Cost
If you plan to change your puppy's diet from the breeder's suggested brand to one that you prefer, it's a good idea to at least continue feeding your puppy the food she's used to during her first few days at home. Changing foods abruptly can upset you puppy's delicate little tummy and digestive tract. Over the course of a week, you can gradually switch her diet by mixing the new food in gradually increasing amounts until the old food is used up.
Unless your vet tells you otherwise, your Yorkie puppy will need to stay on puppy food until she's a year old.
BASIC SUPPLIES FOR YOUR YORKIE PUPPY
Before bringing your Yorkie puppy home it is important to have all the basic supplies to make your puppy feel at home and keep you from scrambling for make-do substitutes.
Dinner Bowls… Plastic, Ceramic or Stainless Steel?
Heavier than plastic and often less expensive than ceramic, stainless-steel bowls may be choice. They're easier to clean, not easy to chew (have you ever chewed on a dinner knife?), and don't break when dropped. Some stainless-steel pet bowls even come with rubber padding on the bottom that keeps them from sliding around.
You may think that you can forgo buying stainless-steel dog bowls and just use the empty plastic butter tubs you've been saving. This may save you a little cash, but you'll pay for it in cleaning up the messes you puppy leaves in her wake. Save the butter tubs, TV dinner trays and empty microwavable rice bowls for arts-and-crafts projects with your kids. They just don't make good dog dishes.
Get The Right Size Bowls
Don't get a bowl so big that your puppy has to practically climb into it to get to his food. Small to medium size bowls are fine. Consider a slightly larger bowl for the water. Also, go ahead and buy the size bowls that your puppy will use as an adult. It's really not necessary to upgrade your doggie bowls as you Yorkie grows.
Indoor Plumbing
Whether for training purposes or a longer term solution, various indoor potty accessories can make your life much easier. These range from scented potty pads that will entice your puppy to use them (instead of the floor), to sophisticated indoor sod boxed tht rinse the grass automatically.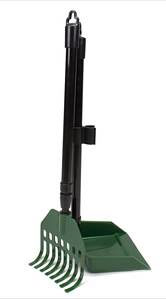 Pooper Scooper
If you have a yard, don't try to remove the poop with makeshift garden tools or other utensils. Instead, use a tool designed to make the job easy. Two-part scoops are easier to use than hinged versions. Scoops with a rake on one side are better for grass, and the flat-edge pusher varieties are better for cement surfaces.
Poop bags
There are a variety of special doggy poop disposal bags available, and those work great, but you can also use a baby diaper disposal bag or even a cheap sandwich bag.
The Puppy Crate
One of the most important items you'll need for your puppy is a crate. Don't assume this is something will use once or twice then pack away in the garage.
If you've never used a dog crate before (or have used one incorrectly), you may be thinking that confining a puppy to a crate is like putting your puppy in jail. Used properly, nothing could be further from the truth. The reality is that a dog crate is a godsend. It functions as a bed, a car seat, a house training center and a puppy safe-haven all in one. Actually, dogs love them! You puppy's crate creates a feeling of security and protection.
Crate Training is another topic, but for now, I want to explain what you need to know about choosing the right crate for your Yorkie.
A variety of crates can be found in pet stores as well as online. When you purchase a crate, be sure the latch works and the carrying handle is secure. Depending on the style and manufacturer, expect to spend $40 to $100 on a quality crate.
Crates typically come in two basic styles: the solid plastic kind with vented sides and the wire kind that look more like a cage.
Plastic crates: Plastic crates are more den-like than wire crates, offering more security and shelter but there's less ventilation so they may be a little warmer.
Wire crates: Wire crates fold up and are easy to store, but even the smaller versions are heavier than the same-sized plastic crates. With the crate's wire sides and top, your Yorkie will have a full view of everything around him – and everyone will have a full view of him.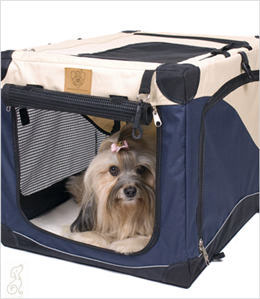 Soft-Sided Crates:
A brand new design of soft dog crates, by Precision Pet Products, are ideal for traveling, puppy training, housebreaking, or any other activity where containing your dog(s) is necessary. They are lightweight, but heavy-duty in performance. Setup and folding couldn't be easier with only two quick-twist pressure bars.
Each soft crate has an epoxy-coated steel tubular frame, heavy-duty water-resistant canvas for indoor or outdoor use. There are four reinforced doors on 3-sides and one on top. Large rear pocket to hold accessories, a water bottle holder, and water dispenser holder. Crate mats are included and are removable for washing. Non-skid feet will protect floors. There are also convenient carry handles as well as 4 plastic stakes for securing to the ground outdoors. Inside is a convenient leash clip and each soft crate comes with a free carry case.
How to Choose Best Size Crate For Your Yorkie
After deciding on the type of create you want, you'll have to determine the size you'll need. Make sure the crate is big enough to allow your Yorkie, when full grown, to stand up without bumping his head, turn around without bumping into the sides, and lie down comfortably. The crate shouldn't be so big that it invites your puppy to divide it into a living area and a bathroom area. You should plan on partitioning off a section of the crate initially. Creating a puppy-sized space is absolutely essential for potty training purposes.
If the crate is so large that your puppy can sleep on one end and poop and pee on the other end, it defeats the purpose of using the crate as a potty training aid. Once a dog develops the very bad habit of soiling in his sleeping area, house training can become much more of a challenge.
For Yorkies, an 18" x 24" crate should be ideal, unless they are larger than 7 pounds as adults. For larger full grown Yorkies, a 24"x24" should suffice. Which begs the question, how big will my Yorkie be when he's all grown up? Your breeder should be able to give you an idea based on your puppy's parents and your puppy's birth weight. Although never 100% accurate, the Yorkie puppy growth chart which is based on birth weight and specific age weights can give you a close approximation.
Bedding
When your puppy is still a puppy and spending the night confined to her crate, line the crate with some bedding. Anything that's soft, comfortable,and durable can make good bedding. An old baby blanket or towel will work or so can an old pillow. You can purchase a bed made specifically for dogs at any pet-supply store.
Just be sure that any bedding you use is washable, comfortable and still leaves room for your puppy to move around.
A Collar for Your Yorkie
The best collar for your Yorkie is one that is both comfortable and fits well. When looking for a collar, buy one that's made of either nylon or leather.
Nylon collars are inexpensive, lightweight and are usually adjustable – a good choice for a growing puppy. Leather collars are more expensive and keep in mind that you'll probably go through several collars before your Yorkie is full grown. The primary purpose of the collar is to attach a name tag, rabies tag and possibly a small bell.
Warning: Buying a metal collar ("choker chain") for your Yorkie puppy is not advisable. A puppy the size of a Yorkie has no business wearing a choker chain. His neck is far too delicate for one of these.
How to Get the Collar Size Right
To get the right size collar to start off with, measure his neck at home and add two inches to your measurement. Remember, as your Yorkie grows from puppy to adult, his collar size will change. Recheck the collar periodically to make certain it isn't too tight. A collar that's properly fitted is snug enough to stay on but loose enough to allow you to easily fit two fingers under it.
How to Get the Collar Size Right
To get the right size collar to start off with, measure his neck at home and add two inches to your measurement. Remember, as your Yorkie grows from puppy to adult, his collar size will change. Recheck the collar periodically to make certain it isn't too tight. A collar that's properly fitted is snug enough to stay on but loose enough to allow you to easily fit two fingers under it….
Harness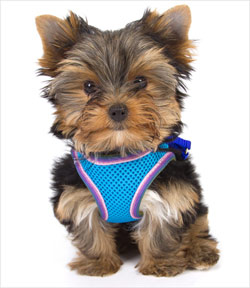 For walking your Yorkie, always use harness. Never attach the leash to the collar. Yorkies have a very delicate trachea and the pulling and pressure from a traditional collar against their windpipe can contribute to trachea collapse. A body harness is also a good idea so you can pull your tiny yorkie to safety if needed.
Leash
A leash can last a really long time. For your Yorkie, buy a leash that's lightweight but strong and either 4 to 6 feet long. Nylon or leather will work fine but avoid chain leashes, which are noisy and difficult to hold.
A note about retractable leashes – the leashes that retract and expand as your dog moves toward and away from you. These are a great invention because that give your dog more roaming room without the hassle of a long leash. But retractable leashes aren't made for puppies. To use these leashes safely, your dog must already be trained to walk on a leash and reliably come when called. Also, if you happen to accidently let the handle slip out of your hand while fully extracted it can put a real scare into your puppy. It can retract on it's on at a very fast speed and even give your puppy a pretty solid smack. Being traumatized by a leash is not what you're going for here. I've actually seen a Yorkie so traumatized by retractable leash it was difficult to get him comfortable with any leash. All leashes – retractable or not – were all very scary things to him after that incident.
I.D. Tag
Purchase an identification tag that can be put on your puppy's collar. A Yorkie puppy purchased from a breeder may already be microchipped or tattooed with identification but even if that's the case, a name tag can be a puppy saver if the puppy wanders away or becomes lost. Make sure that at a minimum, your phone number, name and puppy's name is on the tag.
Brush
A soft-bristle brush is ideal for getting your puppy accustomed to grooming. Later, you can purchase the appropriate grooming tools you'll be needing – especially if you plan on your Yorkie growing a longer coat.
Throw Toys
Balls and other toys, such as tug toys that encourage playing with people are especially good both for exercise and social development. Studies have shown that dogs that never get a chance to retrieve as puppies are far less likely to do so as adults. Because cat toys are smaller, they can be a good choice for a Yorkie puppy.
Puppy Proofing Your Home
Just like having a new baby in the house, it's important to make sure that the home environment is safe for your puppy. Yorkies are very intelligent and are very inquisitive by nature and will often get into all kinds of things around the house.
Even something as simple as a cord hanging from a set of draperies can be a safety hazard for small puppy. It can become wrapped around the puppy's neck, or stuck in the puppy's teeth.
When puppy-proofing your home check the following:
Pick up all strings or cords. A small string can easily be swallowed by a puppy and cause digestive problems if it becomes wrapped up in the intestines.
Remove all small objects that the puppy may swallow or chew pieces off of.
Check houseplants to make sure that they are not poisonous. If they are, remove them to a room or area that the puppy does not have access to.
Block open stairways, deck or balconies to prevent accidental falls.
As much as possible, keep electrical cords away from the areas the puppy is in. If the cords cannot be removed, try treating them with a no-chew spray or rub them with laundry soap to make them unpleasant to the taste.
Keep the puppy confined to the kennel, crate or puppy safe room when you are not home or able to watch the puppy.
Keep Things Positive
The best way to have a positive attitude when bringing your Yorkie puppy home is to be knowledgeable. Read a book; ask friends, breeders, groomers and veterinarians any questions you may have before bringing home the puppy.
The internet offers many suggestions and breed specific information for preparing for a puppy.
Schedule walks, exercise, feeding and play times as much as possible. This will help your puppy adjust, plus it will also make sure that the puppy is cared for properly.
If more than one person will be caring for the puppy, make sure that everyone is using the same schedule and methods. Confusing your Yorkie puppy is not a good thing.
This is just the beginning. Please check our other articles for more information and resources. Our goal is to help you be the best Yorkie owner you can be and to help your make your Yorkie the best dog he can be – so you can share a long, happy life together!