Your Yorkie puppy has already gone through dramatic developmental changes before he's come to live with you.   But don't worry about what you've missed out on because there's plenty more he needs to accomplish before he's thinking and acting like an adult Yorkshire Terrier.  Actually, he may act like a puppy for the rest of his life – that's part of the Yorkie charm!
Your Yorkie's Developmental Timeline
Birth to 7 Weeks
He begins eating semi-solid food by 3 weeks and at 5 weeks he's eating mostly solid food.  The nutritional quality of the food he eats at this point in his life will have a long-lasting influence on health as well as his adult preferences.  If he eats only one food, he'll be cautious of novel foods.  If he eats a variety of foods, he'll be more likely to prefer a variety.
His mommy will no longer clean up his wastes once he begins eating solid food.  If he can, he'll totter away from his sleeping spot to do his business.  He won't intentionally pee or poop where he sleeps, but he's still too young to learn house training concepts.
By 7 weeks of age he's already beginning to be a little more cautions about new places, people and things.  He knows the difference between a stranger and someone he knows and he's obvious about preferring to be with who he knows.
At this point in his young life, as with human babies, early affection and stimulation is vital for positive development.
He can learn the concept of clicker training, and some simple commands.  The first commands he learns will be his "go-to" commands for the rest of his life; when he wants something, or is confused about what you want, he'll tend to "go to" that behavior.  It's best to stick with the standards at this point, like sitting.
He's old enough now to try some simple leash training.  Use a lightweight cat leash and a tiny harness. (Do not attach a leash to his collar – it could very easily damage his trachea.) Entice him a few feet in the direction you want him to go by dangling a treat just in front of him.  When he gets there let him have the treat and some enthusiastic praise.
8 to 12 Weeks
Bonding with his canine family will peak at around 8 weeks.  It will gradually decline until he's 10 weeks old, after which, he'll prefer his human family.
His play is getting a little rougher and he's using his mouth on everything.  Enticing him with a toy can distract him temporarily from chewing on you, but if it doesn't, do what his littermates do when the biting gets too aggressive and say "ouch," and refuse to play until he calms down.
He is very eager to learn, explore and play and can be easily bribed with treats to get him to do what you want him to do.
Now is a great time to enroll him in a puppy kindergarten class.
3 to 6 Months
He still objects to being separated from his family, whether canine or human.  The best course of action at this stage is to give him short periods of alone time.  Studies have shown that soft stuffed toys, worm toys with a heartbeat, or even toys with a safe mirror can help alleviate his distress somewhat.
At no other time in your puppy's life will he be more amenable to training.  But at about 4 months, the ease with which puppies learn actually begins to decline.  Introducing him to the concept of learning by four months can make a huge impact on his ease of training going forward.
He can easily learn how to sit, lie down, stay come and heel by 4 months of age.  If your goal is to have him compete in advanced obedience, or in agility, hunting or trailing, now's the time to introduce him to the concept of climbing over and under objects, and of using his nose to seek out hidden object.  He'll love every second of it!
This is the perfect time to enroll him in an elementary puppy training class.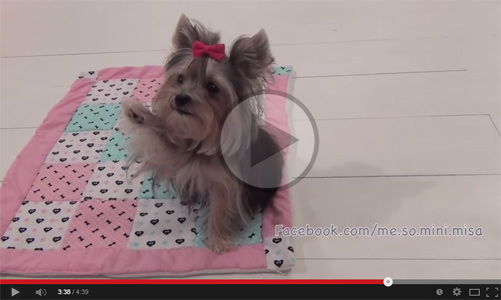 7 to 12 Months
If there are other dogs in the home, he's still trying to find his place in the pack.  The older dogs may become a little less tolerant of his transgressions.  Keep a close eye on them, but remember that the adult needs establish the rules – and it's better now rather than later.
He may also begin to test your limits, pretend to ignore your commands and test things just to see how much he can get by with.  Don't kid yourself… Yorkies are very intelligent.  Believe that they're not at your own peril. Once a Yorkie gets the upper hand, the place will be his.  He soon will have the entire family bowing and scraping (literally!).  What to do?  Deal with disobedience firmly by steering him toward more rewarding behaviors.
Males that haven't been neutered may start lifting their hind legs and some do it right in the house.  Carpet, backyard, what's the difference?  They know.  They just aren't convinced yet that you know that they know or that you can catch them in the act.  Once this becomes a habit it quickly becomes a hard one to break.  You have to nip it in the bud quickly by keeping a close eye on him and rushing him outside (or to his designated place) with a disapproving tone.  A female may start to urinate more often as she comes into estrus and, especially during estrus.
He's reasoning more like an adult.  Certain tests of memory and reasoning, such as "object permanence'" (a test in which the dog notices that an object that was once there has been removed when he wasn't looking), have shown that don't develop that ability until 8 or 9 months of age.
He should know and respond to all the basic commands by now including; sit, down, come, stay and heel.  If you haven't yet enrolled him into a training class, now's the time so he can practice and perform around others.  If he's getting bored with the basics, add some new tricks or advanced exercises.  It will be much easier for him to learn them now – while he's still in his peak learning mode.
If you have special plans for your Yorkie, such as therapy work (Yorkies are amazing therapy dogs) or search and rescue, it's time to get with a qualified local group that can help you train him.
Maturity
For the rest of the dog's life there will be a consistent behavior pattern. You may notice that there are issues that arise and have to be dealt with by re-training or reinforcing existing training. Generally, there should be no extreme behavior changes as long as he is well cared for and checked regularly by a veterinarian.
Changes in environment may cause a regression in behavior, but a little extra attention, positive reinforcement and care at this time will usually resolve the issues.
Whether you've just brought a new Yorkshire Terrier puppy into your home, or you're thinking about getting one, hopefully this will start you off on the right track.
When we got our first Yorkie I was only vaguely aware of a few of these things.  You know the saying … "I wish I knew then what I know now"?  That certainly applies here.
I'm happy to give all the credit for this information with many other sources including numerous books I've read on the topic, other breeders, Yorkie Owners, the Yorkie Talk Forum and lots of personal experience and research.  A special thanks goes to D Caroline Coile, Ph.D for her contribution in "Yorkshire Terriers", a part of the Barron's Dog Bibles Series.
I hope this information helps you get off to a great start with your new Yorkie!