People always ask what the DK stands for.  It simply stands for Debra (that's me), and Kenzie, my  beautiful grandaughter.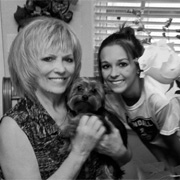 The two of us began raising Yorkies together 8 years ago – when Mackenzie was only 9 years old.  What started as a one-time experience has grown to a lifetime passion.
We love Yorkies and everything about them!
We love placing our precious Yorkie puppies into caring, loving homes.  Every placement tugs hard at our heart strings.  But we realize that having that Yorkie puppy is making another person's heart sing, and that makes it all worth while.
About Our Website
We we decided to publish a website we wanted to do more than promote Yorkie puppies for sale.  We're super picky about who our puppies go to and our passion for Yorkies goes far beyond placing the next puppy into the perfect home.
We get so many questions from our new "puppy parents" we decided to include helpful information from a wide range of topics, including:
The best food for your Yorkie Puppy
House training Your Yorkie Puppy
Puppy proofing Your Home
Grooming Your Yorkie
Health Care for your Yorkie
Advise For Yorkie Breeders
Yorkie Tips & Trivia
and much more…
About Our Yorkie Puppies and Parents
All our puppies are purebred AKC registered.   Their tails are docked within 4 days of birth along with their first Vet health check.  Puppy shots and wormings begin at 6 weeks old with a second inoculation at 9 weeks and a 3rd inoculation at 12 weeks.  We begin potty training with pee pads from the time they are old enough to begin to freely move around (usually 4 to 6 weeks).
Our puppies are home raised and totally loved from day one, so when they go home with you they will be pre-spoiled,socialized, healthy,vaccinated,vet checked and dewormed.
We also send them home with sample of puppy food the best quality puppy food we've found.  We realize, and want all of our puppy parents to realize that quality nutrition for your new Yorkie puppy is one of the most important thing your can provide.  As they grow, it becomes even more important.
QUALITY ISN'T EXPENSIVE, IT'S PRICELESS!